My very first Friday Five! Woohoo! Today I am linking up with
Joy
. Be sure to check out her amazing blog!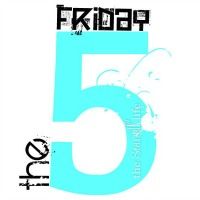 Tomorrow I am helping my sister move back to Tuscaloosa for the fall semester. In honor of getting to visit my favorite city, I am going to share with you my top 5 restaurants in Tuscaloosa. It was extremely difficult for me to narrow the list to just 5. I lived in Tuscaloosa for 4 years and fell in love with so many restaurants. There are days when all I want to eat is a sandwich from Newk's or sushi from Bento. So after much deliberation, here is my list of the 5 best restaurants in Tuscaloosa and my favorite items on the menu.
1. Newk's - A deli that serves sandwiches, soups, salads and pizza. I always order either the Five Cheese Pizza (it has a pesto base!) or the Club Sandwich. Both are excellent!



2.
Bento
- Japanese restaurant on the Strip (University Boulevard). I love their Teriyaki Chicken Bento Box and Shrimp Tempura Roll (I'm not very adventurous when it comes to sushi).
3.
Iguana Grill
- Best Mexican restaurant ever! (In my humble opinion) I order the enchiladas everytime.
4.
Mugshots -
Amazing burgers! The Pat-O is the way to go. Lots of melty cheese!
5.
Cypress Inn -
A nicer restaurant on Black Warrior River with great food and beautiful views. All of their food is yummy. I usually get the grilled chicken.

Be sure to check out these awesome restaurants if you ever find yourself in Tuscaloosa! Happy Friday!